DANCE WITH THE DIEMEN
---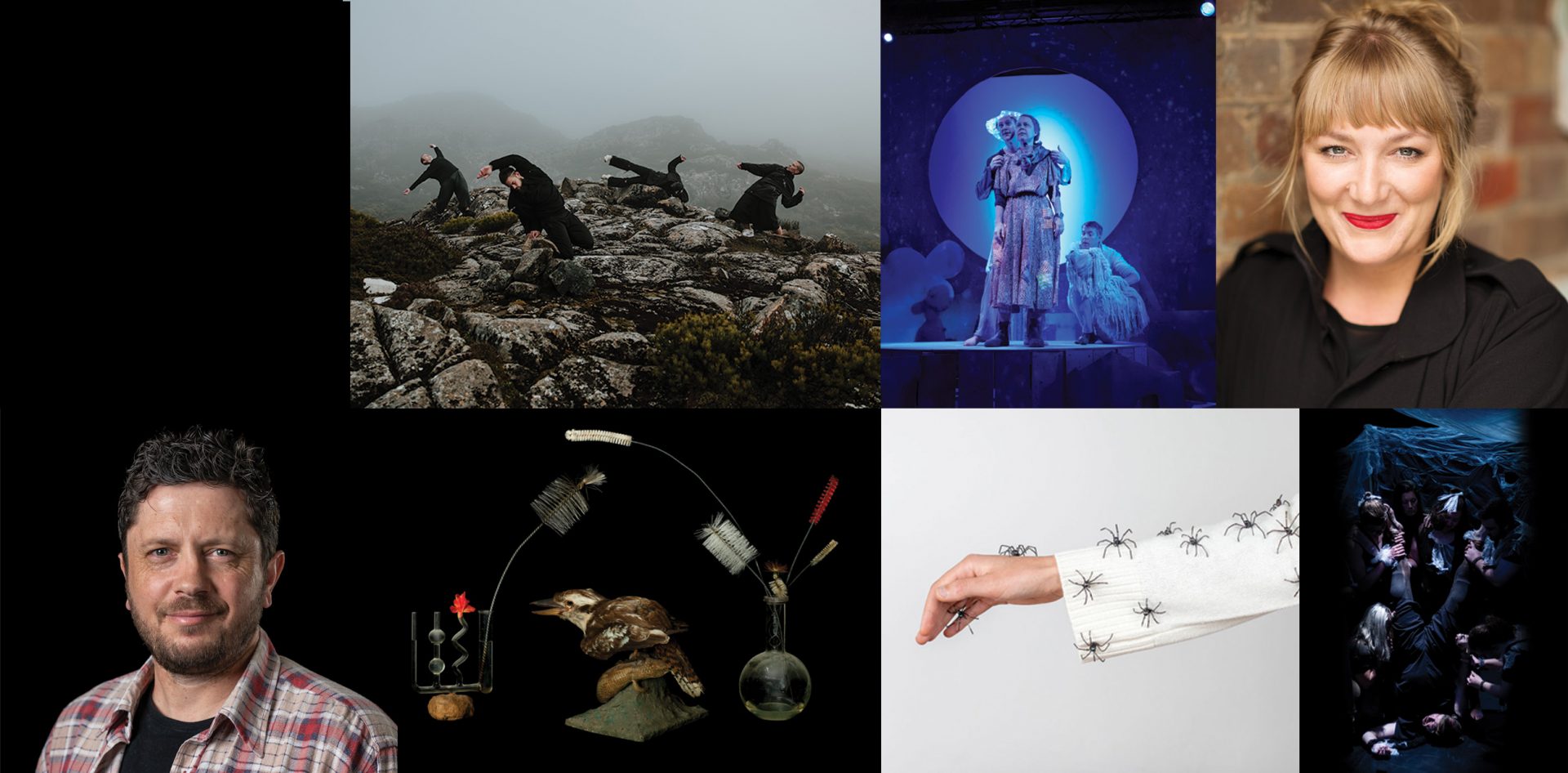 Dance With The Diemen (DWTD) is led by Paige Rattray and Nathan Maynard, two of Australia's leading contemporary theatre-makers. They are joined by Launceston-based artists from IO Performance, Mudlark Theatre, Tasdance, and visual artists Angela Casey and Samantha Dennis. Together, the team is creating an immersive work that jumps through time and myth to juxtapose the story of Mathinna, a palawa girl adopted and then abandoned by Sir John Franklin, Governor of lutruwita/Tasmania, with the story of Orpheus, as a vehicle for exploring a new mythology. Dance With The Diemen invites audiences to look back at our shared history through a different lens.
The team has been working since 2022 on the first stage of the work. In March 2023, they delivered work in progress showings to Festival audiences at the Princess Theatre, featuring 30 choir members and 15 artists. There will be two more developments across 2023 and 2024, working towards a premiere season in 2025.
In Development, produced by Assembly 197
The first stage of development of DWTD was a highly successful exploration of what it takes to develop a fully immersive work that took over the whole Princess Theatre in Launceston. The project brought together a team of passionate and talented creatives led by Nathan Maynard and Paige
Rattray, who were committed to challenging historical narratives through cultural and creative collaboration. DWTD was presented at Launceston's Princess Theatre, where audiences were invited to roam freely and experience the work as it unfolded in various ways in and around all areas of the theatre. This immersive and participatory project blurred the line between fiction and truth, which is where mythology and storytelling work best.
One of the key strengths of DWTD is the innovative way it blends Western mythology with palawa storytelling to create a new mythology that speaks to the origins of lutruwita's mixed palawa and rayji (white people) societies. The stories of Mathinna and Orpheus are the focus, and they are woven together to create a participatory experience that incorporates elements of theatre, dance, And visual arts.
The project has been developed over several phases, focusing on shared creativity between Aboriginal and non-Aboriginal artists and an equitable engagement of all creatives involved. This approach allowing for the recognition of Aboriginal knowledge, practice, and ways of working, while also incorporating the skillsets of all team members.
To date, DWTD is a remarkable achievement that showcases the power of Launceston's creative sector to undertake cultural and creative collaboration.
(Emma Porteus, Project Producer, Assembly 197)
Participating artists have included:
Jayla Booth, Angela Casey, Gabriel Comerford, Samantha Dennis, Travis Hennessy, Chris Jackson, Jenni Large, Sinsa Mansell, Nathan Maynard, Keia McGrady, Cheyne Mitchell, Emma Porteus, Paige Rattray, Grace Roberts, Kyall Shanks, Adam Wheeler & The Launceston College Choir.