tunapri
---
Table Cape Lightshow Experience
tunapri is a projected artwork with an accompanying soundscape that responds to place through the vision, creativity, and voice of contemporary Tasmanian First Nations artist Caleb Nichols-Mansell.
Projected visuals in the form of original paintings, drawings, digital illustration, and photography will tell the story of country. The deep time connections of a culture and community who are connected to place, people, and time will come together to honour those who have gone before and look forward to the future.
The aim of this work is to provide an opportunity for the audience to take an intimate journey into the hearts and minds of the Tasmanian Aboriginal community while also reflecting on our shared histories and connections.
tunapri is a Palawa Kani language word that loosely translates to 'knowledge' and encompasses the intentions and concept behind the work. It can be interpreted as knowledge of country, knowledge of community, knowledge of culture or knowledge of self. Ultimately, we are sharing our knowledge of place and people.
This project has been commissioned by Business North-West and produced by Ten Days on the Island with contributions from the following creative team:
Produced by Sally Richardson & Christian Storan
Creative Direction by Caleb Nichols-Mansell
Elder & Cultural Oversight by Auntie Erica Maynard
Artwork by Caleb Nichols-Mansell
Projection Mapping by Darryl Rogers
Sound Design by Isaac Rogers
This 2023 season of tunapri is from July 1 to July 30th. This is a ticketed event as numbers are strictly limited per session to ensure the safety of all patrons. It is a free event and registration is required.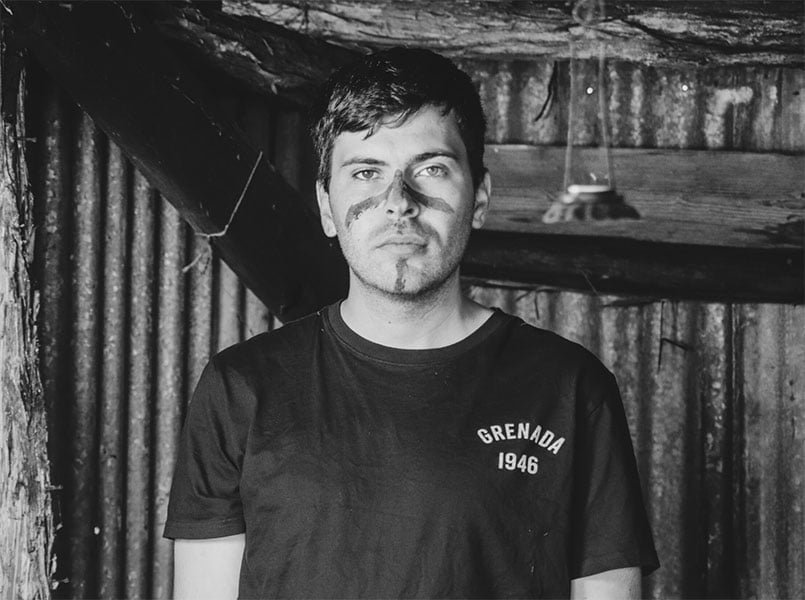 Caleb Nichols-Mansell is an early career mixed media artist and the Founder of Blackspace Creative Arts and Cultural Hub. He is a proud Tasmanian Aboriginal man with deep connections to country, community, culture, and spirit which all inform his practice and process as an artist and leader.
Currently living on the north-west coast of Tasmania with his partner, Caleb was born and raised in Launceston with his large and extended family. Caleb went to school first at Mowbray Heights Primary and then later at Brooks High School. After this he completed his first year of post-secondary education at Newstead College before moving on to the University of Tasmania where he studied and later worked for several years.
Caleb has an extensive portfolio in graphic design and digital art and has been commissioned by a number of leading institutes and organisations both within the state and nationally. Stepping outside of his comfort zone, he is beginning to experiment with large scale festival and public art installations as well as site responsive works which will be developed over the coming year.
Delving into and shining light on the politics of identity, land, and cultural heritage his artwork aims to generate conversation and evoke deep thinking whilst providing the broader community with an intimate look at what it means to be Tasmanian Aboriginal man in modern-day Tasmania.
Caleb passion and drive was recently recognised at the Tasmanian Young Achiever Awards where he won both the category he was nominated for, the Dental South First Nations Achievement Award as well as the overall, Premiers Young Achiever of the Year Award.