Ten Days on the Island in association with Clarence City Council presents
TE-WHEKE-A-MUTURANGI THE ADVERSARY
By Lisa Reihana
(Aotearoa, New Zealand)
When
10 MAR FRI – 19 MAR SUN
11AM – 5PM
Tickets
FREE
Show Accessibility

Visual Content Rating
This work is completely visual.

Language No Barrier
There is no dialogue attached to this work.

Relaxed Performance
This work is in a public space. Please feel welcome to visit the work for as little or as long as you like, to make noise, move around the space how you are most comfortable and to consume food and beverages. We recommend bringing ear defenders if you prefer a quieter environment.
Venue Accessibility

Wheelchair Accessibility
This venue is accessible to people who use wheelchairs. An accessible bathroom is available within the shiny silver toilet block (open 24 hours) and a wheelchair-accessible picnic table is present undercover on the site.
More information on Kangaroo Bay here.

Level Access
There is level access from the carpark to the viewing area at this venue. The terrain between the two locations is a mix of sealed concrete and pavers.
Covid
Ten Days on the Island is closely following and implementing all restrictions and recommendations advised by National and State Governments regarding public gatherings and event venues, you can find the relevant government information here.
We, as well as the venue will be managing the risk of COVID-19 at our event venues in the following ways:
Public availability of hand sanitiser at Festival venues.
Patrons, staff, volunteers and artists are encouraged not to attend events if they are unwell.
It's not every day a giant octopus from Aotearoa New Zealand arrives in Lutruwita/Tasmania.
In Māori mythology, Te Wheke-a-Muturangi is the giant octopus chased by Kupe, the legendary Polynesian navigator who discovered Aotearoa New Zealand. During their epic chase, Kupe dealt many fatal blows to Te Wheke which eventually killed her. A red sunset reflecting on the sea is considered the blood let during their legendary battle. Centuries later, the giant octopus of that story has travelled across the Tasman Sea to share her tale.
Te Wheke-a-Muturangi is the creation of the multi-disciplinary Māori artist Lisa Reihana, whose renowned video work In Pursuit of Venus [infected] garnered worldwide acclaim for Aotearoa New Zealand at the 2017 Venice Biennale.
Throughout the Festival, the giant colourful Te Wheke-a-Muturangi will sit majestically amongst the boats beneath Kunanyi/Mount Wellington in the waters of Kangaroo Bay. Bring the family for a picnic and help us welcome Te Wheke to Lutruwita/Tasmania, before our extraordinary visitor begins her epic voyage back to her home across the sea.
A Story of Kitinapula nguwana and Te Wheke-a-Muturangi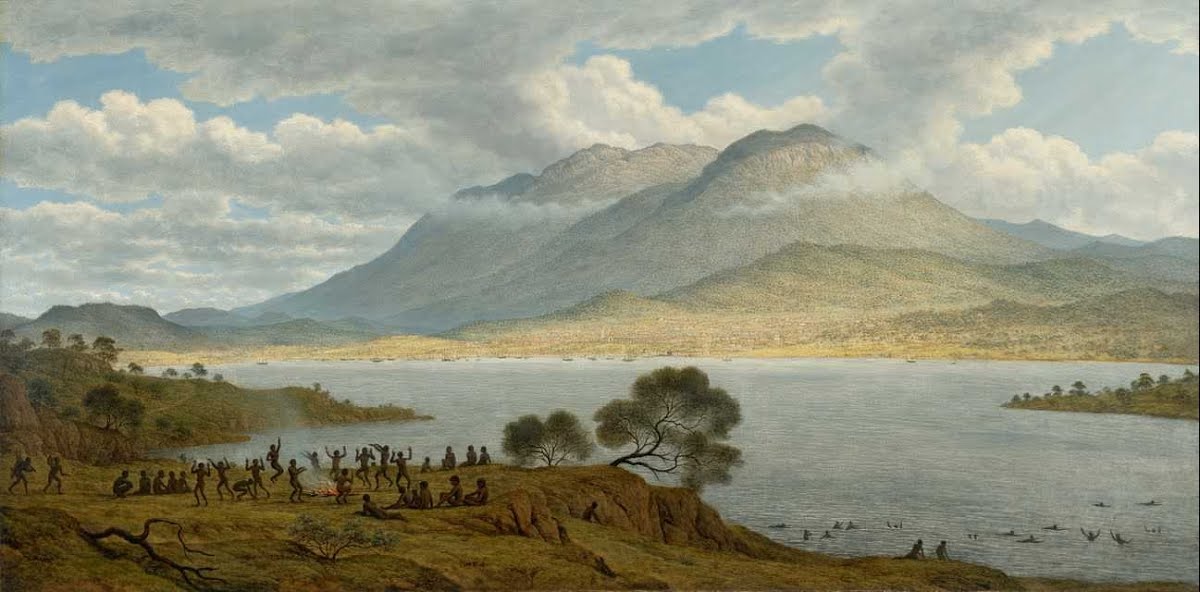 Mount Wellington and Hobart Town from Kangaroo Point, John Glover 1834
The story of kitina pula nguwana and Te Wheke-a-Muturangi is told in the context of protocols and connections between sovereign First Nations people – the palawa and Maori.
I share my imaginings of all creatures and beings of nipaluna (Hobart) milaythina (land) and waterways, communicating to protect kitina pula nguwana, themselves, and Country.  The importance of sharing knowledge of the local waterways with visitors is also illustrated.
The small native pale octopus commonly known as Octopus Pallidus, is called kitinapula nguwana in the story – the palawa kani language for little eight arms. I reflect on the current day reality that native pale octopus kitina pula nguwana is classified as depleting in the waters of northern lutruwita.
This story responds to the installation of the Te Wheke-a-Muturangi artwork in the bay off kipaynta (Kangaroo Point) during Ten Days on The Island.  It is fiction informed by palawa culture and basic knowledge of the coastal environments around lutruwita (Tasmania).
Cheryl Mundy tremanya
A Story of Kitinapula nguwana and Te Wheke-a-Muturangi
Last night kitinapula nguwana hunted shellfish and crabs. She attached her large eggs to good solid things until the moon started to fade.  When those eggs become hatchlings, they are strong and crawl and forage straight away.
Contented she settled hidden among rubble and rubbish and sea squirt cases on the sand and mud on the seabed as Timtumali minanya (Derwent River) flowed gently, and panupiri (the sun) woke to play with colours and light on the waves.
Suddenly, kunanyi (Mt Wellington) saw something red far away.  This was not familiar, and no longer could be seen.  It was an unknown. Did she feel building ripples all around the shore?  She sent ruwinana the seagull out to muka (the sea) to squawk and talk to Sea Eagle returning and ask what he had seen.
On milaythina (land) payarrwinina (magpie), muapipiala (wattle bird) and minungkana (black cockatoo) called out through the trees. Trungana and tara (kangaroos) pounded through pungkatina (the scrub).  Matharithina (blue tongue) and trimanya (echidna) travelled low on the ground. 
Ruwinana flew back and settled and said Old Sea Eagle saw big red Te Wheke-a-Muturangi from Aotearoa heading in the direction of lutruwita waterways.
kitinapula nguwana knew how big red hunted her kind.  She instantly camaflouged by pricking out her special spikes and fingers of skin, but still felt unhid.  She shapeshifted her body and short thick arms into a plastic pot – attached to a long rope – attached to a boat.
Tiyuratina (the wind) took the palawa message milaythina manina milaythina muka (across land and sea) and out to the waiting Te Wheke-a-Muturangi.  The message was friendly but spoken with strength, a message of respect between beings and place.
"You may stay to krakani pulingina (rest) in the bay off kipaynta (Kangaroo Point) with no arm extended onto miylathina (land).  Touch not kitinapula nguwana, or hunt in our waters for the ten days you stay.  Know that the boats are all out there and hunting is rife, and around lutruwita kitinapula nguwana struggles for life.  So, Te Wheke-a-Muturangi travel with caution and speed and send us a message through tiyuratina (the wind) when you wish to return to lutruwita again."
A trust was extended, and a trust was kept, connecting knowledges and cultures in the future's net.
Copyright Cheryl Mundy tremanya
Cheryl Mundy tremanya (echidna) is a pakana activist, singer/songwriter and cultural educator. She has performed in Australia and overseas and has an extensive background in Aboriginal health, wellbeing and mental health.
Current Day Facts
*The oldest known fossil of an octopus belongs to a creature that lived 296 million years ago.
*Pale Octopus represents the majority of octopus catches in Tasmania.  They are 'harvested using unbaited plastic pots which the octopuses use as shelter- to be primarily used as bait'. The two other recorded species in the Tasmanian Octopus Fishery are Gloomy Octopus (Octopus tetricus), and Māori Octopus (Macroctopus maorum).
Purakau AR
Purakau AR (Storyteller) embodies the spirit of Te Wheke-a- Muturangi – the giant female octopus that Kupe chased across the Pacific Ocean. Our storyteller retains her power and agency by confirming herself as the "protagonist" of this story. Kupe and his wife Hine Te Aparangi discovered New Zealand during this odyssey, and it was Kupe's wife who named the land Aotearoa.
Lisa Reihana collaborated with Jahra Wasasala, a Fijian contemporary choreographer and poet on this spoken word performance piece where she embodies Te Wheke-a-Muturangi through costume and make up design, then translated into a digital persona that through AR can be seen floating above Kangaroo Bay. The public can use smart devices (iPads) to reveal Storyteller floating above Kangaroo Bay.
Download the app to view Pūrākau: Apple Store & Google Play
Image Credit: Courtesy of the Artist