Join the Team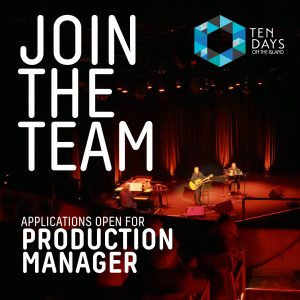 The next Ten Days on the Island Festival is in March 2023. As lutruwita/Tasmania's premier state-wide arts Festival, we need clever and capable people to deliver and share our program with audiences across the state.
We are looking for a Production Manager to assist with planning, and oversee the implementation of both technical and operational procedures for the festival.
Applications close at 5pm on Monday, 30 May 2022.
DOWNLOAD AN INFORMATION PACK (PDF)
Production Manager Application Pack 2023
CONTACT US
christian.storan@tendays.org.au